Damascius: Commentary on Plato's Phaedo
Regular price
Sale price
$ 648.00
Unit price
per
Sale
Sold out
Edited and translated by L.G. Westerink.

This is the second volume of L.G. Westerink's fine text and parallel translation of the surviving Greek Commentaries on Plato's Phaedo. It contains the all of the surviving material from two commentaries of Damascius. The first of these covers the Phaedo from 61c to its conclusion, the second from 69e again to its conclusion.
Damascius, as the last head of the Athenian Academy and a philosopher of great penetration, displays the profundity of the Platonic tradition after many centuries of continuous development.

Both volumes have excellent introductions, extensive notes, and indices: together they give an insight into the final phase of the Platonic tradition before its disruption by the closure (by imperial edict) of the pagan Academies of Athens and Alexandria.
This is a new edition, which incorporates the amendments noted by Prof. Westerink in the margin of his own working copy, after its first publication.
416 pages. Hardcover.
ISBN 9781898910473.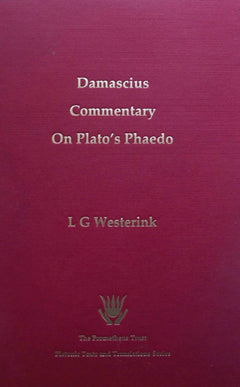 About the Series

The Platonic Texts & Translations series from the Prometheus Trust makes essential late Platonic
texts and translations—the fruit of exceptional scholarship from the last 50 years—available to a wide readership.

Each volume is a revised version of its original, and presents parallel Greek texts and English translations, together with extensive notes and indices.

The eight volumes of series are bound in matching red hardcover.

See all volumes